Not much is known about Swiss wine outside of Switzerland. When people think of Switzerland, they usually think of skiing, chocolates, cheeses, watches, and private banking, among other things. Where does wine fit into all this, and why don't we know much about it?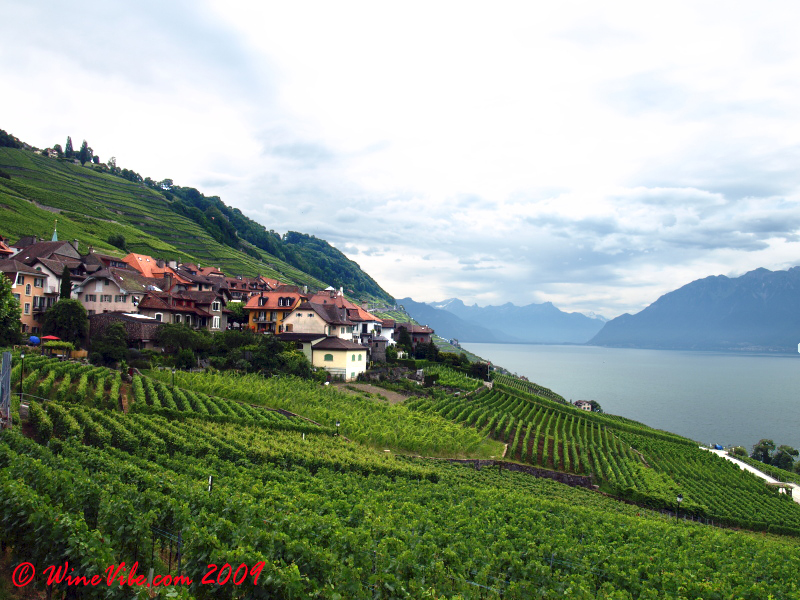 Vineyards of Lavaux , Vaud, Switzerland
How much wine does Switzerland produce?
To put Switzerland's wine production into perspective, I will compare it with California. Switzerland produces around 1.1 million hectoliters (29 million gallons) of wine a year. California, on the other hand, produced around 20.6 million hectoliters (545.8 million gallons) in 2008. In other words, Swiss wine production is only around 5% of California wine production. Clearly, Switzerland's wine production is significantly less than California's. Nevertheless, if you figure in Switzerland's population, you'll realize that Switzerland actually produces a lot of wine. Specifically, it produces more than 4 gallons or 21 bottles of wine per inhabitant.
How much wine does Switzerland export?
Over 4 gallons of wine per capita seems plenty, especially since people below 18 normally do not drink wine. Switzerland probably exports most of it or does it, really? Well, it does not. Swiss wine export is actually very limited. It's just supply and demand. Swiss people drink 4 times more wine than Americans do. In fact, Switzerland has to import around 1.7 million hectoliters of wine (45 million gallons) just to satisfy its people's demand for wine. In short, residents of Switzerland love their wines so much that they leave very little available for export. Switzerland exports only 1.5% of the wine it produces. In contrast, according to the US Department of Commerce, California exported over 21% (3.8 million hectoliters or 100 million gallons) of its wine production in 2006. So, why do we know so little about Swiss wine again? Simple. Virtually all of it is consumed domestically. Not a lot of people outside Switzerland get to try it, let alone know about it.
Interesting trivia: Even though the demand for Swiss wine is very high, Swiss wine prices remain reasonable. Most Swiss wines are priced at the $12-$30 range.
Swiss wine varietals
Switzerland is most well known for growing Chasselas, a white grape variety often used as a table grape in Europe. For some reason (climate/soil), Chasselas has found a perfect home in Switzerland. Swiss Chasselas wines are delicate and elegant with great minerality. At first, it was thought that all Swiss Chasselas wines are best drunk young (within the first 2 years). However, sommeliers have discovered that some Chasselas wines 15 years and older from great producers and vintages actually drink very well. These vintages are creating beautiful, mature Chenin Blanc/Viognier-type wines. Switzerland is home to many indigenous varietals and has cross-cloned numerous varietals as well. Some 190 varietals are grown in Switzerland today. The most commonly cultivated are (in order of importance and categorized by wine type):
Reds:
Pinot Noir (52%), Gamay (19%), Merlot (12%), Gamaret (4%), Garanoir (2%), Syrah (2%)
Humagne Rouge, Diolinoir, and some fifty plus, non-listed varietals account for 9%
Whites:
Chasselas (66%), Muller-Thurgau[/glossary] (8%), Chardonnay (5%), Sylvaner (4%), Pinot Gris (2.5%)
Amigne, Pinot Blanc (Malvoisie), Charmont, Humagne Blanche, Petite Arvine, Riesling, Gewürztraminer, Heida (Paien) and some seventy or so non-listed varietals account for 14.5%
Swiss vines go back as far as 3,000 BC. According to records, Swiss viticulture and wine production began at the time of the Roman Empire. We owe today's incredible terraces of vineyards in the Lavaux area to the monks. Some of these vineyards are now UNESCO World Heritage sites (enlisted/inscribed in 2007, UNESCO ref 1243).
More Swiss wine facts and trivia to come
This is just the start. Expect more blog posts about my trip into the heart of Switzerland's wine production areas.
Cheers!